The College is located in a sprawling and sylvan campus in a prime area of the city; its teaching and supportive departments are accommodated in separate buildings with a top class facilities. The infrastructure and other facilities in the College are exceptionally good and adequately support the teaching–learning process for the students studying in undergraduate, postgraduate degree programs
The classrooms, lecturehalls and tutor rooms at St. George's are fully furnished with the standards set by the institutes.The Teaching-Learning pedagogy used in the classrooms is IT enabled and all classrooms are equipped with a standard array of presentation equipment that provides our faculty with the best multimedia tools for their instructional needs.
The lecture halls can accommodate upto 100 students , classrooms can accomadate 60 students while the tutorial classes are designed for a strength of 20-30 students. We have Wi-Fi enabled campus, on which a Information Management System(IMS) is made available, which can facilitate students to discuss academic topics, submit their assignments online, see their class notes, study through specially designed learning resources.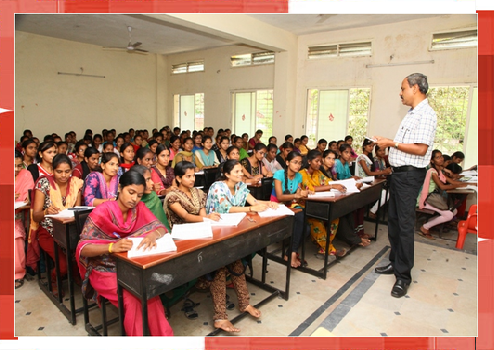 The George's Library, epitomizes the spirit and strength of the institute which is, "Apply Knowledge and Improve Life". It offers an excellent opportunity to transform the academic environment of the College as a provider of information and a facilitator to learning. It has a rich collection of reference books, textbooks and research journals in both electronic as well as in print formats encompassing the field of Commerce, Accounting, Journalism, Psychology , management and allied subjects. Continuous updationbe it using information technology or titles procured is incorporated to improve the quality and efficiency of the services that the library provides. This space also provides a conducive environment for intellectual inquiry by providing user-focused services to obtain and evaluate scholarly information and knowledge.
The library is equipped with reading hall, digital library, a reference hall, discussion rooms and newspaper section that seats different students at a time. The entire library is under the surveillance of CCTV. The Library is committed for the fulfilment of the academic curiosity of its users with Books (print and e-book), Journals (print and e-Journal), Magazines, Newspapers, CD's and DVD's. Digital library being an integral part of the library has well configured PCs for surfing the different web based resources subscribed by the Library or from other open access databases. There are discussion rooms as a space for the student and faculty to have a discussions. The Library is a member of the NDL (National Digital Library) and therefore it also provides video lectures and web – based courses of NPTEL to its users through intranet
Partaking in college clubs and organizations alongside your academic responsibilities allows you to practice not only discipline, but also time management. "Involvement in clubs demonstrates a student's ability to manage her schedule with academics and social activities,"
the beauty of these activities are — they pull together all kinds of students under a shared mission. Participation in them encourages teamwork and collaboration, not to mention learning how to work together on a larger scale. And with collaborative work comes opportunities to step up and lead your peers, manage projects and work through any road bumps along the way.
Involvement in these groups allows students to create collaborative work experiences, such as planning events, creating learning material or performing community service. At St. George's we have the following student clubs at different levels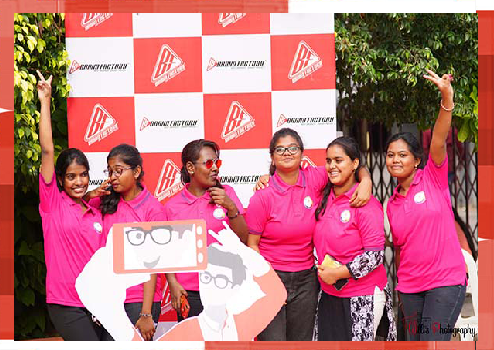 Practical experiments and workshops are just as important as theoretical study; therefore we make sure that we provide our students with the best infrastructure and state-of-the-art laboratories that are well-stocked and equipped with the latest technology, to offer the most apt environment for learning.
Each laboratory at St.George'sis well-equipped to serve the requirements of the respective programmes. With state-of-the-art facilities, the laboratories are a place for the students to practise, experiment, and innovate.
We have five advanced computer labs and one computer center that are equipped with latest networking devices and advanced computers for students to learn, experience and create their own codes and programmes.
Various soft wares such as Dev C++, Python, Tally, Ubuntu, Oracle etc are made available to students.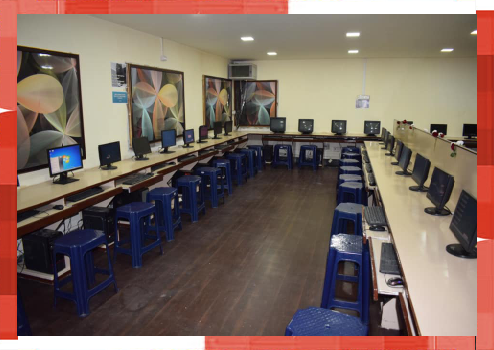 A dedicated Commerce lab for the benefit of staff and students has been initiated in new premises to develop global competency and keep them updated with recent practices in the business world. Commerce Lab provides practical exposure of the processes and procedures followed by organizations in conducting commercial practices. The lab provides practical orientation to students by linking the subject syllabi with practical training in the lab.
The Commerce Laboratory is equipped with the latest teaching aids such as projector, video camera and Laptop. Charts, Models, Magazines prepared by students are displayed for the benefit of all. Again, an all out effort is being made to install the laboratory with the latest gadgets. The Lab is also used for interaction with the peers from other institutes. Students also participate in group discussions, interviews, presentations, etc. arranged here from time to time. With the commerce lab, the college aims to stress on the importance of practical application of knowledge gained through theory, among students and faculty.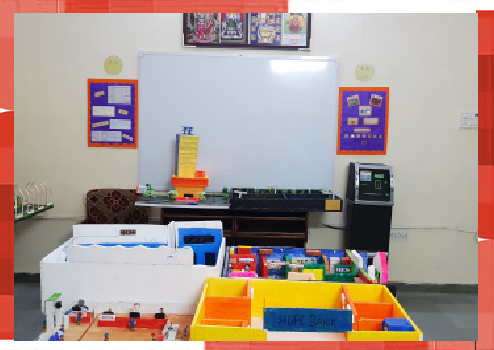 The Psychology laboratory of the department is well equipped with materials and psychological tests and instruments for providing training in conducting experiments in Psychology and developing the skills required for administering and interpreting psychological tests of different kinds. It has different kinds of standardized tests such as intelligence test, tests of personality , creativity, anxiety , stress , emotion , adjustment and behavior problems , attitude, interest, aptitude, aspirations and values , jobs and careers which can be used for various age groups. All these of tests consist of Manual, Booklet, Answer Sheets, scoring key with norms. The Laboratory also extends its support and services to the research activities undertaken by its faculty members , research scholars and students for their dissertations.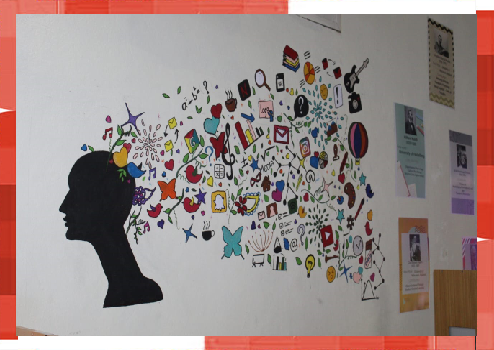 Journalism, as a technique for modern communication which has been both a product and a part of society for more than a century and a half, has needed to pass through the laboratories of innovation in order to better respond to the challenges that the Internet age poses. At George's , one can experience and practice with sophisticated equip to get the wonderful exposure.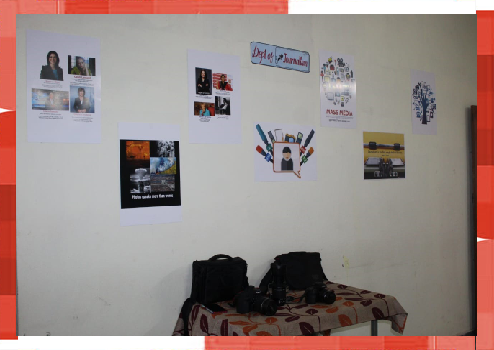 Language learning is the byproduct of cognitive learning and interactive process. Typical language learning consists of four core skills namely listening, speaking, reading and writing. Among the four areas, listening and speaking are the beginning points of language learning.
English Lab offers an interactive platform with comprehensive digital content and simulative lab environment where a learner can easily get accustomed to the process of English learning.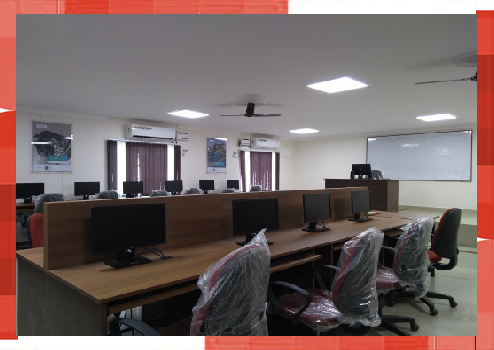 While sports offer amazing benefits to students in terms of health and mental development, it also enhances academic performance and helps them achieve better grades. Other than these benefits, students also get a sense of entertainment while getting exposed to different sports tournaments. At St. George's, you will find many options to stay fit and active. With state-of-the-art facilities on the campus including Cricket Ground, Basketball Court, Football Ground, in-door games, fitness programs, inter-college sports tournaments, the College provides opportunities for students, faculty members, and staff who aspire for more in-depth sports experience.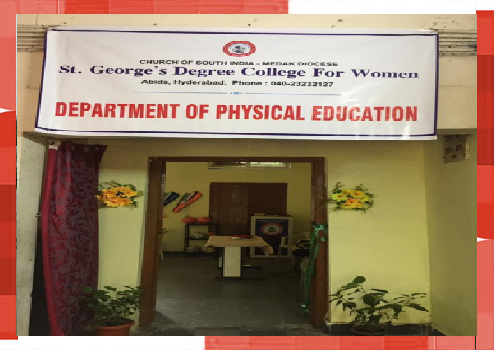 The college playground provides a safe outdoors environment within the college that stimulates students to use their creative energy in healthy interactions with one another.
Students sit at their classroom desk for many hours each day. They are given breaks in between where they go outdoors to the playground. The key to these playgrounds is choice: use the play equipment, run on the field, jump rope, play basketball, or create some new game to challenge friends.
The playground in St. George's is spacious and outdoors, also be secluded so that the students (and their parents) feel safe and do not have to consider the outside world.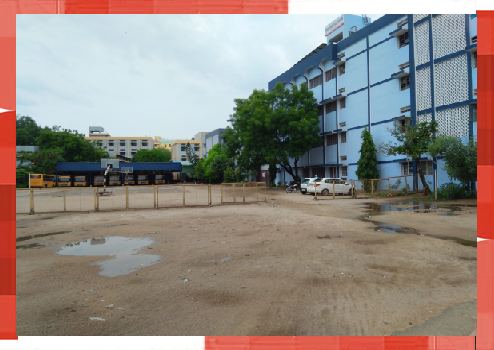 From quick bites between classes to full meals, the cafeteria serves a wide array of good and hygienic food to all the members.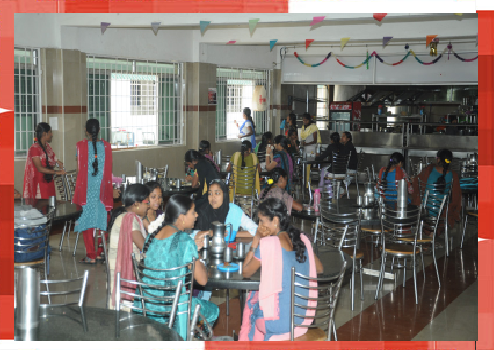 There is a spacious vehicle parking facility on campus that is manned by security guards and that is also covered by CCTV for security monitoring.